Invitation to CSSA Chinese New Year Gala
Feb 2, 2017 by Stella L Cheng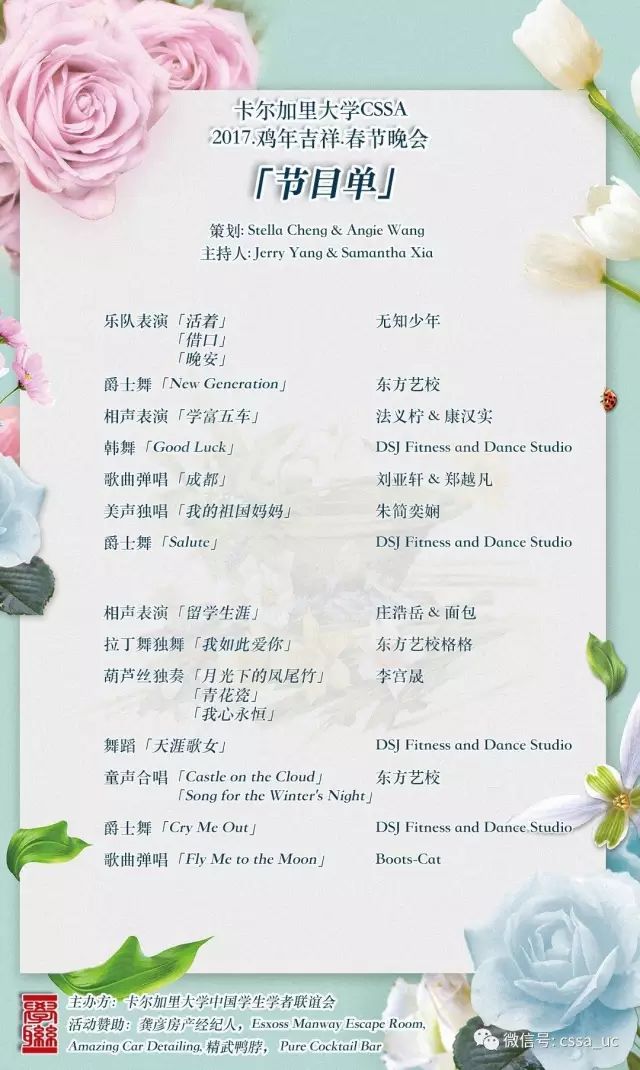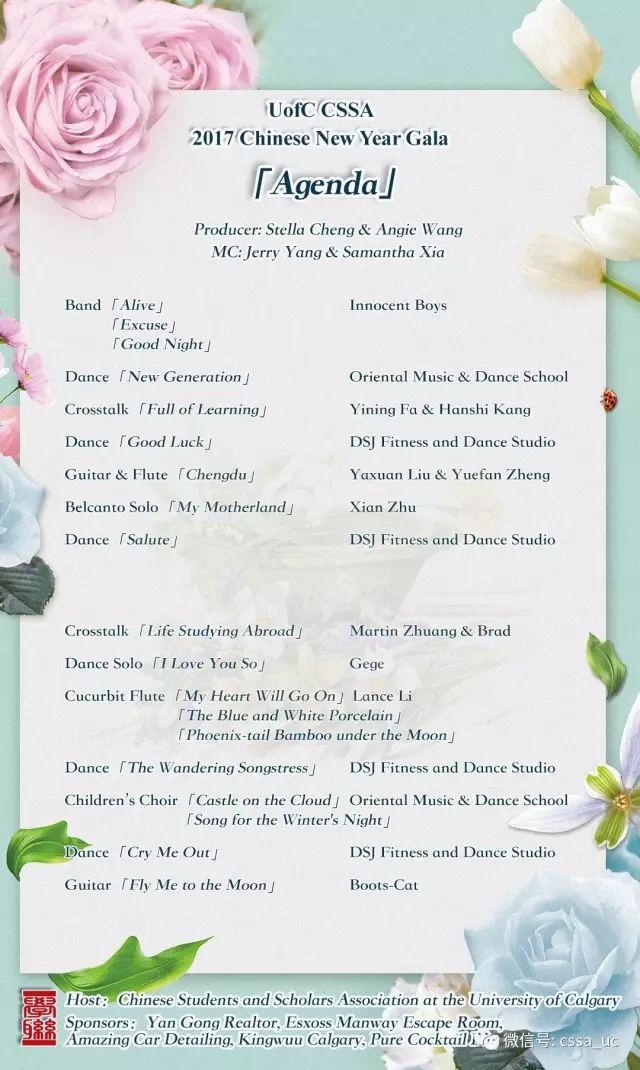 2017 is the Year of the Fire Rooster, which is represented by the Earthly Branch character "酉". Rooster is the only bird included in the Chinese zodiac and a Fire Rooster Year only comes once every 60 years. In this very special year, our whole CSSA team would like to invite every one of you to celebrate the coming up Chinese New Year together! This is a great opportunity to meet new friends, catch up with old friends, or just sit back and enjoy some authentic Chinese New Year songs, dances and instruments. Our event will be held on February 11th, 2017 in ICT 102. Please contact one of our representatives below for your ticket purchase. We hope to see you there! 
2017年是农历丁酉属鸡的生肖年,火鸡之命,因为六十甲子60年一循环的原因从天干地支上讲,丁酉年。这是一个多么特殊的年份,在这个特别的新年里,我们全体CSSA工作人员在这里向您拜年啦!新年好!

不知不觉又到了快过年的时候了,在这辞旧迎新的日子里,我们CSSA诚邀各位学生学者、海外同胞欢聚一堂,共度春节!为进一步推动海外学生学者的文艺活动蓬勃发展,丰富大家课余生活,活跃校园学习气氛,卡大CSSA也将于2017年2月11日在卡尔加里大学ICT102晚六点隆重举办一年一届的春节晚会,届时欢迎你们的加入。下周起开始售票,购票方式见下方!小伙伴们赶快来订票,一起迎接新年吧!

届时我们将推出10至20个节目表演,唱歌、小品、器乐演奏、舞蹈等,还会提供各种礼物抽奖环节,应有尽有。我们坚信因为你们的参与,我们的舞台会更加炫目,我们的会场会更加活跃,我们的记忆会更加深刻. 

Ticket Price:
Regular- $15/person
CSSA Member- $10/person 

Contacts (text-only):
Jun- (587)583-7656
Sihan- (403)542-1860
Chenying- (587)969-6553

If you have any questions or concerns please feel free to shoot us a message at any time!
---