Giving Tuesday
Nov 28, 2016 by Clyde The Mountain Lion
Support Scholarships on Giving Tuesday.
http://www.uccs.edu/~givingtuesday/
An anonymous donor will give $45,000 to support scholarships if we are able to get 500 donations of any dollar amount on November 29. We need your help to reach the goal!
Every gift counts! All gifts received - even just $10 - get us closer to the goal of 500 donors and an additional $45,000 to support scholarships.
The first 500 donors to contribute $10 or more will receive a complimentary pair of UCCS Mountain Lion socks.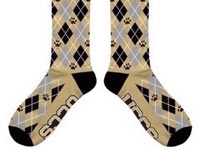 Are you ready to show your Mountain Lion pride?
Support YOUR passion and spread the word for others to join you using #GivingTuesdayUCCS and #RocktheSock.