Welcome to Alpha Phi Omega
Leadership | Friendship | Service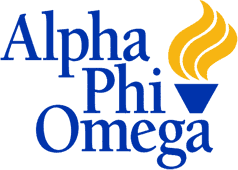 Alpha Phi Omega is a co-educational service fraternity that opens membership to all students of Florida Tech and helps develop key leadership and social skills to uphold our brotherhood towards excellence. Below is some general information for the public to know about the chapter.
Chapter Name Alpha Gamma Rho
Established at Florida Institute of Technology on February 22, 1992
Chapter President Indiah Cornish, icornish2017@my.fit.edu
---
Portal Information
Alpha Phi Omega is a national co-educational, service-based fraternity with the core principles of leadership, friendship and service. Our brotherhood (full-time and initiated members) have planned projects every week in which bring a variety of community service to our organization and campus community. All of our events are open to the students of Florida Tech!