Register for First-Year Outdoor Orientation Trips (FOOT)!    
Congratulations on committing to Yale Class of 2022!
Registration for Yale's First-Year Outdoor Orientation Trips (FOOT) is live on May 1st! FOOT is an outdoor pre-orientation backpacking program that will take you trekking through the wonders of the New England outdoors, help you make your first friends at Yale, connect you with upperclassmen mentors, and make some of the best memories of your Yale College career! No experience is necessary and we even offer a range of trips, from 4-day to 6-day, as well as service and day trips. FOOT trips are very popular and each year almost 1/3 of each incoming class embarks on FOOT trips. Generous financial aid and gear rentals are available!
Please register through the *Pre-Orientation Programs Portal* (Click the link and scroll to the bottom of the page to begin the registration form).
 If you have any questions, comments, or would just like to express your enthusiasm for FOOT, please direct your emails to poobahs@gmail.com or footsummercoordinators@gmail.com. The deadline to register is July 1st.
See you in the fall!
---
What is FOOT? First-Year Outdoor Orientation Trips!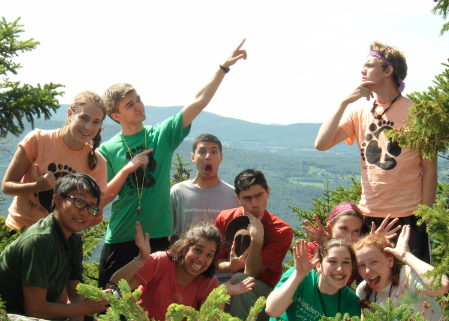 We invite you to join us for an experience that many students say is one of the most formative and important of their time at Yale. On FOOT, you will sleep under the stars, share stories and songs around the campfire, create a new tight-knit community of friends, enjoy discovering the Northeastern landscape, and spend time discussing what life at Yale will be like.
Visit our website at yale.edu/foot or our Facebook page at https://www.facebook.com/YaleFOOT/ to learn more!
Registration is LIVE May 1st. 
The DEADLINE to register for FOOT is July 1, 2018.
Portal Information
On First-Year Outdoor Orientation Trips (FOOT), upperclass students lead first-year students on six-day and four-day backpacking trips in the mountains and hills of New Hampshire, Vermont, New York, Massachusetts, and Connecticut. FOOT is designed for students of all backgrounds and levels of hiking experience. Students form tight bonds of lasting friendships and create a close group that supports them throughout the years, in a wonderful wilderness setting. Participants meet at Yale on the day before departure, on August 19 for the six-day trips and August 21 for the four-day trips, and are bused to their various destinations. For more information, visit the FOOT website or portal or email the head student coordinators at poobahs@gmail.com or the summer coordinators at footsummercoordinators@gmail.com.
The DEADLINE to register for FOOT is July 1, 2017.
Statement of Purpose/Mission.
Please describe the organization's purpose and/or mission. Statements of Purpose should only be a few sentences long, at maximum.
Freshman Outdoor Orientation Trips (FOOT) is an orientation program of backpacking trips for entering Yale freshmen led by two upper class leaders. Students hike along trails to enjoy the views, cook simple meals, and set up tarps under the stars. Freshmen hear about college life first-hand from older students. However, much more is accomplished—students learn skills that have immediate practical use, they are challenged physically to reach goals and mentally to endure hardships, and learn they can accomplish more than they thought. Students come together and form a tight bond of lasting friendships, and they create a close group that supports them during the oncoming years.
Goals of the leaders are to create an atmosphere of trust and inclusiveness, and to ensure the safety and well being of each freshman. It is the mission of FOOT for students get in touch with themselves and the great outdoors in the wonderful wilderness of the Northeast. In addition to the focus on freshmen, FOOT is a proven leadership training program for its leaders. After undergoing our leader training sessions and leading trips, FOOT Leaders can apply the skills they have learned to almost any situation or career choice that involves problem solving, critical thinking and empathy for others.